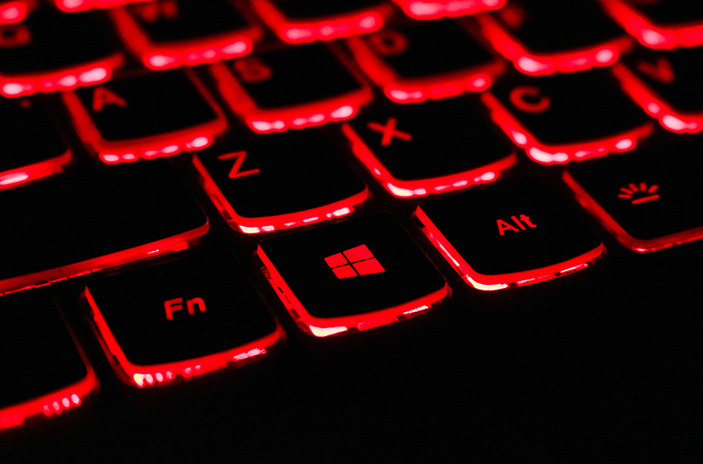 Technology has made massive headway the past few years, and when it comes to gaming laptops, you can purchase a laptop that'll run most games under C$500. Of course, it is true that the more you spend on a laptop, the more powerful it will be, and if you play hardcore gaming titles such as The Sims 4 or Firewatch, we recommend increasing your budget.
While desktop gaming will always be the pinnacle of PC gaming, gaming laptops have risen in the ranks and now rival desktop counterparts in design and power. Recent trends have brought forward small and compact gaming laptops that pack a punch (such as the Razer Blade), and laptops that have the highest settings and resolutions.
The Hard Facts
Put simply, if you're spending less than $800 on a gaming laptop then you may not be able to play some of the more demanding games. While a gaming laptop for under C$500 can pack plenty of power, they may not be able to play games like Rise of the Tomb Raider or Witcher 3. However, they will be able to play older games easily.
If you're a fan of CS GO, Minecraft, or even League of Legends, then a gaming laptop under C$500 is not out of the question. Laptops in this price range might not be capable of playing the best new releases, but they still pack enough power to justify looking at them more closely. It's worth noting that there are some budget laptops that will be able to run newer games, but they will not have smooth gameplay, and you will notice the difference.
If you can afford to pay more for your gaming laptop, then check out our rundown of the best gaming laptops for under C$1,000.
What's Possible Under C$500
When you're buying a gaming laptop for under C$500, you're going to need to be very aware of the types of games that you can and can't play. Some of the most popular games are perfectly playable on laptops with lower specs, so don't start thinking that you're going to be very limited, and while you may not be able to play Batman: Arkham Knight, there are games that you will be able to enjoy and get a lot from.
The most popular games can be played on a low spec gaming laptop, such as:
Civilization V: Although this is not the latest Civ game, many people still prefer this classic over more recent additions. There are some settings that you may have to tinker with before you get smooth gameplay, and you may have to limit yourself to smaller maps, but those are minor changes to a brilliant game.
Stardew Valley: This is a massive game that most will assume is unplayable on a budget gaming laptop. It actually is, and that's one of the reasons why Stardew Valley continues to be a top seller.
The Legends of Heroes: Trails in the Sky: If it's size and immersion that you're looking for, then TLoH is playable on pretty much any machine that you look at.
World of Warcraft: It's easy to assume that you need a massive and expensive gaming rig to play WoW, but you don't even need a specialist gaming laptop. As long as you prioritize your graphics card, you will be able to play WoW easily, and with the higher settings too.
So those are examples of the types of gaming experience you can expect to have with a good gaming laptop under C$500. It's worth noting the types of games that you will not be able to play easily. The most recognizable titles include:
Fallout 4
The Division
Hitman
Rise of the Tomb Raider
Batman: Arkham Knight
If those are the games that you're interested in playing, then you might better off waiting until you can justify spending more on your laptop. Have a look at our list of best overall gaming laptops and strike the right balance between what you can budget for and what you want to play.
It is worth mentioning that even some of these games will be playable on gaming laptops that are under C$500 as long as you adjust the in-game settings. While this will reduce some key aspects of the game itself, this could be an option worth considering if you are limited by budget but still want to play the latest games. Always check that the games you want to play are able to be adjusted in a way that will allow you to play them.
What to Look For
When buying a laptop in general, you need to know what to look out for, especially when seeking the best gaming laptop under C$500. While you do not need to know all the technical jargon or have a massive understanding of CPU or RAM, knowing a little will help you find the ideal gaming laptop.
Let's look at some of the essential basics that the Choosist team recommend being aware of.
Operating System
Ideally, you want to get a machine that runs Microsoft Windows. This is definitely the best way to go, although some people are sticking to Chromebooks because they're happy playing Chrome app games. However, if you want to avoid restrictions to your gaming, Windows should be your OS of choice. If you're content to play your games from the Chrome app, then you will still have a lot of game options, but you should be aware that without an internet connection, a Chromebook is not much use (unless you like that jumping dinosaur game).
Battery Life
Gaming laptops will use far more battery power than laptops being used for work or internet browsing. Always look for a machine that has long battery life. Chances are that you won't get much more than two or three hours of gaming without being plugged in, so it's important that you are aware of how long you'll get to play.
It's worth accepting the fact that battery life on gaming laptops is never going to be very good, and you may just have to resign yourself to staying plugged in at all times.
Check the Weight
If you're planning on taking your gaming laptop with you wherever you go, it's worth checking the weight of the machines that you're interested in. There are lightweight models available, but most gaming laptops will be heavier than you expect. The weight will be affected by both the internal workings of your gaming machine and the size of your screen.
You only really need to give serious thought to the weight of your laptop if you are planning on taking it with you everywhere you go. If your laptop is likely to stay in the same place more often than not, weight will not be an issue that you have to pay much attention to.
Highest RAM
If you're not tech-savvy, then even the mention of RAM can make your brain switch off. You don't have to understand what it is, as long as you understand that the higher your RAM, the better.
Older games will require 4GB of RAM, but newer games will need at least 8GB. Some games, like Batman: Arkham Knight, have a 6GB minimum, with 8GB recommended, and a whopping 12GB required for smooth gameplay on Windows 10, but that's something of an outlier at this stage.
Make sure that you know what your favorite games need in order to run smoothly. 4GB should be the absolute minimum that you aim for; anything lower will seriously start to affect your gaming options.
Storage Solutions
You'll get faster loading times if you have a solid state drive instead of a hard disc drive. The problem is that SSDs are not quite as sturdy as a good HDD, so it's usually better to go the HDD route. Although loading times are slower, if cost is a concern, you'll get more bang for your buck with an HDD. If you're buying a good laptop under C$500, then you will be much better off choosing a machine with HDD storage.
Graphics Cards
This is probably the most important thing to look at when you're browsing through the best laptops for under C$500. Make this a priority, because your graphics card will be the defining factor of your gaming experience.
Ideally, you want to find yourself an AMD Radeon R5 M430 or Intel UHD 620, but obviously, if you can get higher than these then all the better. If you want your games to look like they should, the more powerful your graphics card, the more they will be able to handle the higher-end games without the need to lower your game settings. The Intel UHD 620 and AMD Radeon R5 M430 may not let you play newer games, but older games like BioShock Infinite and Metal Gear Solid V are easily playable.
Processor Power
This is another area where the less technically minded will start to glaze over, but it's important to understand what you're looking for. PCs let you have the option of upgrading your processing power, but laptops do not allow for that. So you have to make sure that you have as high-powered a processor as possible.
An Intel i3 (from 2016) is the best starting point, but if you can afford a better processor, you should always go higher. The processor is pretty much the heart of your gaming laptop and will play a large part in determining the types of games that you can play.
Ports and Peripherals
Always check the slots on the side of the laptops that grab your attention. You will want to make sure that you have a port for a mouse as your bare minimum. The chances are that you will also want to hook up your gaming laptop to another monitor, so make sure that there's a port for that option too. If you're the type of gamer who likes LAN parties, then check that there's an Ethernet port as well. Always consider the types of additions that you're most likely to use.
The Importance of Audio
The better the audio quality of your gaming laptop, the more immersive your game-playing will be. Never focus entirely on the need for better visuals, because audio is playing a greater part in game design than ever.
The latest Resident Evil remaster uses binaural sound, which is a brilliant example of how sound affects game playing. Of course, you might be the type of player that prefers to use headphones, but having the option to listen on your laptop's internal speakers is well worth the time it takes to check for the best audio capabilities.
Microphones - Yes or No?
Whether you need a good quality mic on your laptop will depend greatly on the type of games that you play and who you play them with. A gaming laptop under C$500 may not be powerful enough to let you play Fortnite smoothly, but there are plenty of games that will allow you to play online with other players. If that's how you prefer to game, then having a good microphone is vital. If you're a WoW player looking for more efficient dungeon clearing, then a good mic is going to be worth looking at closer.
Screen Size
While audio is important, the priority is always going to be the look of a game. That's why screen size is worth considering. For gaming laptops under C$500 you're going to have a few size options to choose from. You're going to have to weigh up whether you want a more lightweight machine or don't mind having some extra weight. Making sure that you can see everything that is happening on the screen is clearly important, but you will have to assess the weight considerations as well. The ideal middle ground is a 15-inch display, which is the best balance of weight and size. Remember that if you opt for smaller screen size, then the machine itself will be smaller too. That will mean that there is less room for that all-important RAM.
Keyboard Necessities
One of the aspects of buying a gaming laptop that is often overlooked is the keyboard itself. This can be a mistake because your laptop's keyboard is going to play a major role in your gaming experience.
There are some tips that you can follow in order to make sure that you get the most suitable keyboard for your gaming needs. These include:
Try it out: If possible, always try typing on the model that you're interested in. It can take time to get used to a new keyboard, but the more you know what you're going to be using, the easier it will be to decide if a keyboard is right for you.
Look at key travel: This is how far you have to press a key before it does what it's supposed to do. This can make all the difference in a high-pressure gaming moment, so ideally you want to be looking for something that is between 1.5 and 2mm. This allows for a comfortable level of key travel and you also get quite a nice click as well.
Force: Some keyboard keys are considered as too squishy, and that can really slow down your response time when gaming. Make sure that you're happy with the amount of force it takes to press a key, and your game skills will be noticeably better than when using inferior keyboard types.
Anti-ghosting: This is one of the more important elements to factor in when looking at keyboards. Anti-ghosting is when your keyboard registers multiple keys being pressed at the same time. If you're a button basher playing Mortal Kombat or Dragon Ball FighterZ, then anti-ghosting is going to be very important for your win-rate.
The Touchpad
If you're new to gaming, then you probably haven't given much thought to your touchpad. Many seasonal gamers will ignore their touchpad and use a mouse instead, as it is easier, quicker and reliable than a touchpad. When it comes to shopping for a mouse, any mouse is better than using the touchpad, and you do not have to spend too much money on one. Your touchpad is largely useless for gaming, so don't stress over size or sensitivity.
-
Taking all of these considerations into account will make it far easier to get the gaming experience that you're dreaming of. There are plenty of options available for those gamers looking for a cheap gaming laptop under C$500. You may not have the best access to games, but they remain high-quality choices.
Have a look through the list of best gaming laptops under C$500 and think about the games that you're interested in playing. The more that you know about the basic requirements of your gaming set-up, the easier it will be to choose the best gaming laptop to suit your needs. Remember, you can always use the Choosist Wizard for extra help in deciding the best gaming laptop for you.