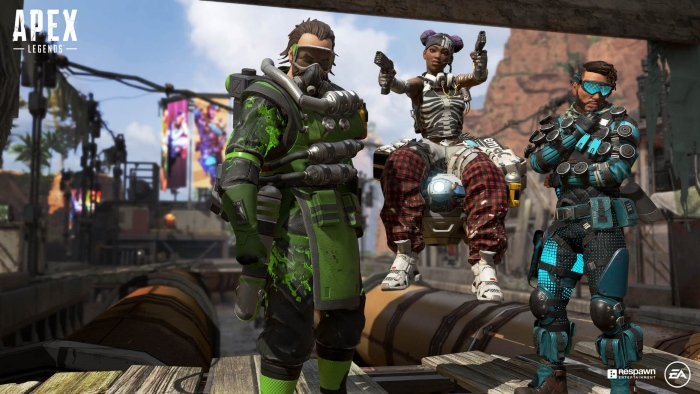 Ensuring your laptops ready for the latest gaming sensation is essential if you don't want to look like you don't know your ass from your Apex. If such a scenario is likely to send you into a state of shock, take a breath, step back and read on.
Apex Legends has exploded on the gaming landscape rather like the alien xenomorph bursting from Ripley's thorax. It has ripped through the gaming chart's rib cage, splattering the likes of Fortnite and Call of Duty with blood and charred flesh.
The good news is that if you're about to buy a new laptop and want to get your hands (not too) dirty, there are plenty of great options available on the Martian landscape of online retail.
Here, we'll help you navigate the craters and peaks of your decision-making journey with expert advice, in a language that's intelligible whether you're a Stephen Hawkings, or a Steve Austin (or God knows whatever lies in between!).
Minimum Requirements
There are minimum requirements and then there are minimum requirements. You need to know both. If that makes as much sense as the plot of a Wachowski Brothers' movie let's be clear - rather like vehicle fuel efficiency stats, there's the official and the real world. The official versions are below:
Apex Legends - Official Minimum System Requirements
OS: 64-bit Windows 7
CPU: Intel Core i3-6300 3.8GHz / AMD FX-4350 4.2 GHz Quad-Core Processor
RAM: 6GB
GPU: NVIDIA GeForce GT 640 / Radeon HD 7730
GPU RAM: 1 GB
HARD DRIVE: Minimum 22 GB of free space
Apex Legends - Official Recommended System Requirements
OS: 64-bit Windows 7
CPU: Intel i5 3570K or equivalent
RAM: 8GB
GPU: Nvidia GeForce GTX 970 / AMD Radeon R9 290
GPU RAM: 8GB
HARD DRIVE: Minimum 22 GB of free space
For a real-world breakdown of what you'll need that goes further than just a list of Apex Legends laptop specifications, read on.
Screen Considerations
Your screen choice is key. Most contemporary laptop models would sport a basic TN panel with simple characteristics. If you're not fussed at all with visual fidelity (which will be odd considering your after a gaming machine) then this could actually suffice. However, you'll be denying your eyes a treat from what Respawn Entertainment has produced from their studios. Let's take a look at a few things you need to bear in mind;
Response Time: Being a First-Person-Shooter title, your twitch reactions can make the difference between failure or success with your team while running for cover. Have a ghost image showing on your screen can be distracting. A screen's response time impacts this. The lower the better. It's fairly common these days to find models with a 7 milliseconds (ms) response time. This can do a decent job but if your mind is within the hardcore gaming territory, then 5 ms is recommended if you've got the cash to spare. A couple of high-end models can go as low as 3 or even 2 ms.
Refresh Rate: In the recent past, high refresh rates would be something you would only get on external monitors. Practically all laptops capped at 60Hz. Nowadays, there's an increasing range of models with up to 144Hz. This and extra level of smoothness that needs to be experienced to be believed. It also gives you the flexibility to tweak game settings within Apex Legends to better manage screen tear or stuttering.
Resolution: The character and environmental textures on display can look muddy or crips depending on your settings as well as screen resolution. Even though 4k screens are trendy these days, the laptop will require a very powerful GPU to drive pixels at that level. 1080p still looks pretty by today's standards with 2k (1440p) providing an extra level of fidelity without punishing performance too much.
Frame Rate: You'll need to stay as close as possible to 60FPS especially for multiplayer titles that maintain a frenetic pace. You could compromise on 3rd person titles, but in the case of playing Apex Legends, you should opt for a good balance between visual quality and frame rate.
Screen tech (TN vs. IPS): IPS generally provides richer colours and wider viewing angle compared to TN. However, most panels with TN are able to pump out faster response times and refresh rates. New models released since 2018 have begun to blend the best of both worlds so look out for this on your next purchase.
Graphics Card Considerations
Whatever you do, make sure you do not buy a laptop that comes only with an integrated graphics card. Unless you're happy with a Slideshow, the dedicated cards are the way to go.
Assessing the minimum & recommended requirements - Respawn Entertainment have stated that their latest release will run with the NVIDIA GeForce GT 640. In theory, this should run... but it will have to stay within low settings and low resolutions.
The recommended GPU - Nvidia GeForce GTX 970, is a pretty good card that still holds its own in 2019. Depending on other components in your laptop, it's safer to keep your expectations for 60FPS performance within the boundaries of medium settings and 1080p resolution. Apex Legends is a pretty looking game so even at medium settings, it's a visual treat.
What to aim for - To fully engage in the kinetic action in all it's visual splendor you will definitely need to go up a notch from the Nvidia GTX 970M. For Nvidia, you'll be looking at the 1000x series or the newly released RTX 2000x series. For AMD it's Radeon RX family of graphics cards.
Fortunately, the new release of the RTX series early this year has driven down the cost of the Laptops that carry Nvidia cards from the 100x family. For Apex Legends we recommend dropping into battle with the GTX 1050 series or higher. If you go up to a GTX 1070 card, you will be able to hit 60FPS at even 2K resolutions. Looking to do you your finishers on 4k? You'll have to look out for Laptops with the GTX 1080 card. It's tricky sorting through all the options out there, but that's why Choosist is here to help take the pain out of choosing the right laptop for you.
Processor Considerations
As critical as the graphics card is to Apex accomplishment, the processor is going to be critical to quality performance and snappy action. Here's the low down:
Cores & Threads - The greater the number of cores the greater performance you can expect as your machine can deal with several processing tasks at the same time. For example, when you're trying to lobotomise the enemy with your "peacekeeper" shotgun scope, the processor is, at the same time instructing the GPU what to render, generating real-time stats, generating the corresponding audio, while unpacking the code for pulling in your competitors' moves into gaming reality. Also if you're streaming on Twitch or YouTube, your processor needs to be able to handle the increased level of multitasking.
Generations - 'AL' is a reasonably demanding title, so the latest gen processor won't hurt in the slightest. Whilst you'll be comfortable with a 6th gen X or a 7th gen Y, the latest Zth gen Intel iX will put the devil into your energy blaster whilst in deep combat.
Variants - Aside from discriminating between Intel i5, 6th gen and 8th, there is also the consideration of different variants designated by its suffix. '-U' processors you should avoid. These are lower power consumption options designed for lightweight space-saving battery extending ultrabooks - fine for browsing and documents but not for blasting the enemy into oblivion. Those model ending with 'H' something, such as '-HQ' and '-HK', are higher performance versions which you should take seriously.
Memory Considerations
RAM is a big deal. However, these days, everyday laptops to gaming laptops usually come with 8GB or more of RAM. Think of RAM as the thinking space that the processor processors.
To play Apex Legends 8GB is not going to prohibit your footsteps onto terra insana. However, if you want to ensure you keep things slick and snappy, especially if you're going to be keeping something else running in the background (e.g. streaming Youtube or reading great content on Choosist) then you should consider 12 to 16GB options. This will also help future proof your purchase so you'll be able to enjoy years of Titanfall new releases.
Storage Considerations
Your choice of storage might be more important than you might think. Whilst, of course, it is true that the drive holds files and data whilst the RAM is the memory used to process everything including gameplay, the storage medium is more than a storage vessel for ones and zeros
HDD - at the lower end of the spectrum of storage drives the HDD, literally Hard Disk Drive, offers the slowest but cheapest per unit of storage (GBs) around. For gaming, this is useful but not essential. Whilst Apex might load a little slow and scenes may take a little longer to present themselves, it shouldn't directly affect gameplay too much or too often so long as there's a reasonable amount of RAM. But that's not to say that it will have no effect on your chances of survival in this arena in the world of Titanfall.
SSD - are somewhat the inverse, the anti-matter of the HDD. They are faster, but you tend to get smaller capacities on offer at higher prices. The differences in cost are narrowing by the minute, but they're still a premium. They'll ensure that you can step straight into the arena from the matchmaking screen with very quick load times. Whilst there won't be massive FPS performance improvements, you'll find in that in large open area situations, you might gain little advantages
SSHD - ignore these at your own expense quite literally. SSHDs combine the speed of solid-state memory with the low cost and spaciousness of HDDs. The solid-state bit is usually what's called a NAND chip, similar to eMMC chips. Whilst not quite as fast as SSDs, this hybrid drive gives you much of the vitesse of an SSD for the times you need it with cost and volume of HDDs. Whilst not as higher performing as SSDs, for many gamers these have proven to be a sweet spot allowing more of the budget to be spent on the other things that more directly affect your Apex action.
Audio
If this is your first time with hardcore gaming titles like Apex Legends, there's one thing you may not have clocked - audio is important. Great audio can make the difference between enjoying great visuals, to a fully immersive mind and body transport to another dimension, where bullets whizz past your right ear and becoming aware of enemy combatants creeping up behind you. Audio matters.
Now in reality of course how much this means to you is entirely subjective, however, aside from the richer sense of involvement in the game, it can provide the spacial awareness that exists between interplanetary life and extraterrestrial death.
Now, whilst gaming laptops tend to come with more and better speakers than their civilian counterparts, the quality of that does tend to depend on the depth of one's pockets.
A cost-effective alternative may be to invest in a gaming headset. Sealing you off from pesky reality, headsets can provide the gamer with even deeper immersion and with surround sound variants even better audio spacial landscapes. If you want to know more check out our gaming headphones page.
Input Devices
Given that you're shopping for, or sizing up, a 'laptop' to host your time in the Titanfall Universe, it makes sense to assume you're more than likely wanting to manoeuvre by keyboard than say opting for a gaming controller. There are big advantages to using the keyboard given the greater number of buttons available to utilise, literally at hand.
There is always the option of an external keyboard, either wired or wireless. The key things to remember when assessing an inbuilt or external keyboard for slaying the enemy on Apex Legends are:
Form Factor - The choice of mechanical island and chicklet will ultimately be down to preference. Many hardcore gamers swear by mechanical, and there are a surprising number of gaming laptops out there to satisfy. For a more multi-purpose machine, the island option might provide you with the right balance between precision, responsiveness in your Apex Legends theatre of war, and a more general purpose typing experience in the alternative reality of, erm, reality.
Numpad - once a must have, game producers are adapting to the reality that gaming laptops often need to facilitate more than just gaming. As such smaller screen sizes, thinner and lighter laptops are gaining ground in the gaming world, pushing out the advantages of including acres of numpad.
Backlighting - And specifically multicoloured, backlighting can be useful if you want to map and highlight specific keys for specific actions.
Trackpads are fine. They really are, but the trusty old mouse combined with the relative hectares on tablespace that it can enjoy is more likely to intuitively navigate you to your next rendezvous point. Whilst wired mice will have zero lag issues, wireless ones will only be imperceptibly behind. Ensure you opt for one with multiple buttons. You need to be able to signal your teammates without having to waste time searching for a key.
Comms
In terms of connectivity, Apex Legends being a multiplayer reality can really benefit from tomorrow's world connections to the ether. MIMO wifi for example, with its beamforming technology, can ensure that you're keeping up with the team.
If you have access to high-speed LAN (local area network - e.g. when you can connect to your router with a cable) an ethernet port will be handy. The latest 10Gbps is a future proofing nice-to-have over the perfectly zippy gigabit (sometimes notes as 10/100/100 or 1000base-t ) ethernet capability.
External Gaming Monitor
External monitors are very popular with the gaming fraternity and can afford you greater vistas and panoramic backdrops to your skull-crushing victories. External monitors are a great way to add 4K, IPS or 144Hz if you don't have it locally). You will most likely need either fast HDMI ports or even better, the ultra-fast Thunderbolt 3 port.
Buying a lower powered laptop that is compatible with an eGPU is an option and give you a bit more flexibility on laptop usage - light regular laptop for the day to day and gaming prowess at the desk at night, for example. However, eGPUs will not work with all machines, the combination is likely to be considerably more expensive and playing Apex on the airplane just ain't gonna happen with this rig.
Portability
Even without an eGPU there are no two ways about it. There is a fairly direct trade-off between performance and weight/dimensions - generally, the more powerful and capable the machine, the bigger, chunkier and heavier it's going to be. This formula can be somewhat circumvented by throwing cash at it, but even that will only take you so far. Decide straight off what you're going to use your machine for and you'll save yourself the frustration.
Conclusion
There you have it. Apex Legends is currently on its way to being a global dominator in the multiplayer FPS space and this guide should help you on your next laptop purchase. Explore our Intelligent Laptop Finder, a powerful service that can recommend laptops that are tailored to your needs.